West of Loathing makes finalist at IGF, then heads to console with Switch!
I don't know, maybe I spend too much time in the wrong internet places, or maybe I get too emotionally invested in things that I am 100% a spectator in, but dang it's nice to see nice guys doing well with their ethics and artistic sensibilities intact. Asymmetric Publications' best-known previous work, Kingdom of Loathing, is an MMORPG that's got a reputation for a welcoming player community and financial success without using advertising or requiring subscription fees.
West of Loathing is a single player western-themed RPG for PC, Mac, and Linux released last August. It has received overwhelmingly positive reviews from critics and fans, and this week at the International Games Festival, West of Loathing has been named a Finalist for the IGF Seumas McNally Grand Prize.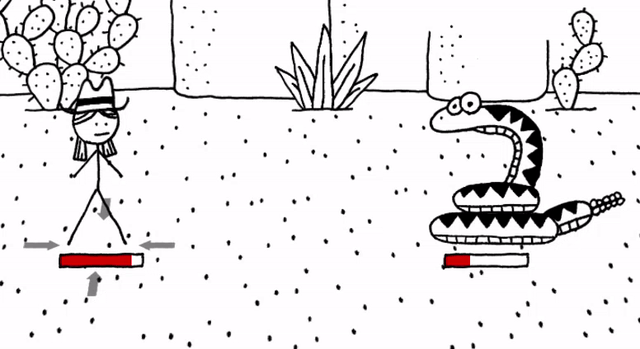 The game has been praised for its humor and surrealism, such as the first skill the player's character learns: stupid walking, and its in-game currency: meat. Described as a "slapstick stick figure rendition of the wild frontier," gameplay is influenced by classic adventure RPGs Paper Mario and Quest for Glory. The game boasts open-world play with more than 100 locations, a wacky twist on RPG class systems with roles such as Snake Oiler, Beanslinger, and Cow Puncher, and "wordplay, dad jokes, several gulches, at least one drunken horse, and liberal use of the Oxford comma."
As if the praise and acclaim wasn't exciting enough for Asymmetric Productions, Nintendo just announced the release of a version of West of Loathing for the Switch this Spring! This will be a console exclusive, as announced in Nintendo's Nindies Showcase broadcast Tuesday.
The iOS version, which was announced to be in development shortly after the game's initial release, is also anticipated to be out sometime this Spring.
You can find out more at westofloathing.com, check out the game on Steam, or if you happen to be at GDC, head to the IGF Pavilion, North Hall. You'll be able to play the game and chat with the devs. If you stop by on Thursday or Friday, you can even check out the Nintendo Switch version!