How To Get Silk Touch In Minecraft (Is This an OP Enchantment?)
This post was last updated on September 1, 2023
Silk touch is an enchantment in Minecraft that lets you harvest blocks without breaking them into their normal drops – they stay in their original form.
This can be super useful and lets you take unique blocks which otherwise you wouldn't be able to harvest with simple tools. This is a unique enchantment that gives you a massive advantage if you want to make decorations in survival Minecraft.
Read on to find out how to get silk touch in Minecraft, and learn about its mechanics in detail!
How to Get the Silk Touch Enchantment
There are two main ways to get the silk touch enchantment in Minecraft – either from an enchanting table or from a silk touch enchantment book.
Getting Silk Touch From an Enchanting Table
You can enchant tools with Silk Touch using an enchantment table. All you need to do are follow these steps:
Build an enchanting table.

This uses 1 book, 2 diamonds, and 4 obsidian blocks.

Interact with the enchantment table to open the enchantment window.
Insert the tool you wish to enchant into the top left slot.
Mouse over the available enchantments to see which types are offered.
Select an enchantment option that contains silk touch.
Voila! You now have a silk touch enchanted tool.
You might not always get the silk touch enchantment, so it might take a couple of tries to get it. If you don't see silk touch, choose another enchantment and then put the tool back in to re-enchant. After a few repetitions, you should eventually find Silk Touch.
Remember, having more bookshelves around your enchanting table increases the level of capacity for enchantments. This increase is capped at 15 bookshelves.
Don't forget, you're going to need enough XP and lapis lazuli to reach the enchantment level you want. In this case, you will need to be level 17 to have enough – unless you find a silk touch book
You will also need to add bookshelves (a total of 9) to the area surrounding the enchantment table in order to unlock silk touch.
Getting Silk Touch From an Enchanted Book
The other option for getting the silk touch enchantment is by using an enchanted book. Enchanted books let you buff items although you also need an anvil to enhance your items with books.
You can find a silk touch enchanted book in two locations in survival mode:
Either in chests as loot.
Or as an enchanted book trade from librarian villagers.
Silk Touch books can spawn in any type of loot chest, from dungeons to witch huts, or Nether bastions. The only issue is that the percentage chance of receiving one of these books is very low, as there is an equal chance of finding any enchantment. That said, you can still find a silk touch book inside any kind of loot chest, so it's always worth checking them out.
Librarian villagers trade enchanted books in exchange for emeralds. This can be a fairly reliable source of finding this type of book, although the books they offer are also randomized, so you can't be 100% sure.
If you don't have a librarian villager, you can make one by giving an unemployed villager a lectern.
Don't forget to check out our full guide on librarian villagers for more information on these trades.
How to Enchant Tools With an Enchanted Book in Minecraft
If you're lucky enough to get your hands on a Silk Touch enchanted book, all you need to do is follow the next steps to enchant your tool:
Make an anvil out of four iron ingots and three blocks of iron.
Put the tool in the left slot.
Put the book in the right slot.
Give the item a new name if you fancy it.
You now have the option to take your enchanted tool from the third slot!
Note: if you have OP server permissions, or cheats enabled, then you can manually get your tool enchanted with Minecraft silk touch by using the enchant command.
What Does the Silk Touch Enchantment Do?
The silk touch enchantment is an interesting buff in Minecraft that has a unique ability.
If you mine certain blocks with a Silk Touch tool, it changes the mechanics of what items they drop when broken. Silk touch always returns the original blocks – rather than the normal drops they make.
Some blocks in Minecraft are normally instantly destroyed when mined and don't drop anything. Other times, the blocks break down into different types of blocks.
When mined with silk touch, these types of blocks drop their original form, rather than breaking. For example, you can mine glass without destroying it.
Any of the following four tools can be enchanted with the silk touch enchantment
The best tool to make is a silk touch pickaxe, as they can mine the largest variety of blocks. The other different tools are useful, although can't harvest as many blocks.
Unlike other enchantments, the Silk Touch buff only has 1 level.
Incompatibilities
The Silk Touch enchantment can't be used on an item with the Fortune enchantment. It also doesn't work with Looting, or Luck of the Sea, although these are only incompatible by technicality, and the enchantments wouldn't be useful with each other anyway.
What Items and Blocks Can Be Harvested With the Silk Touch Enchantment?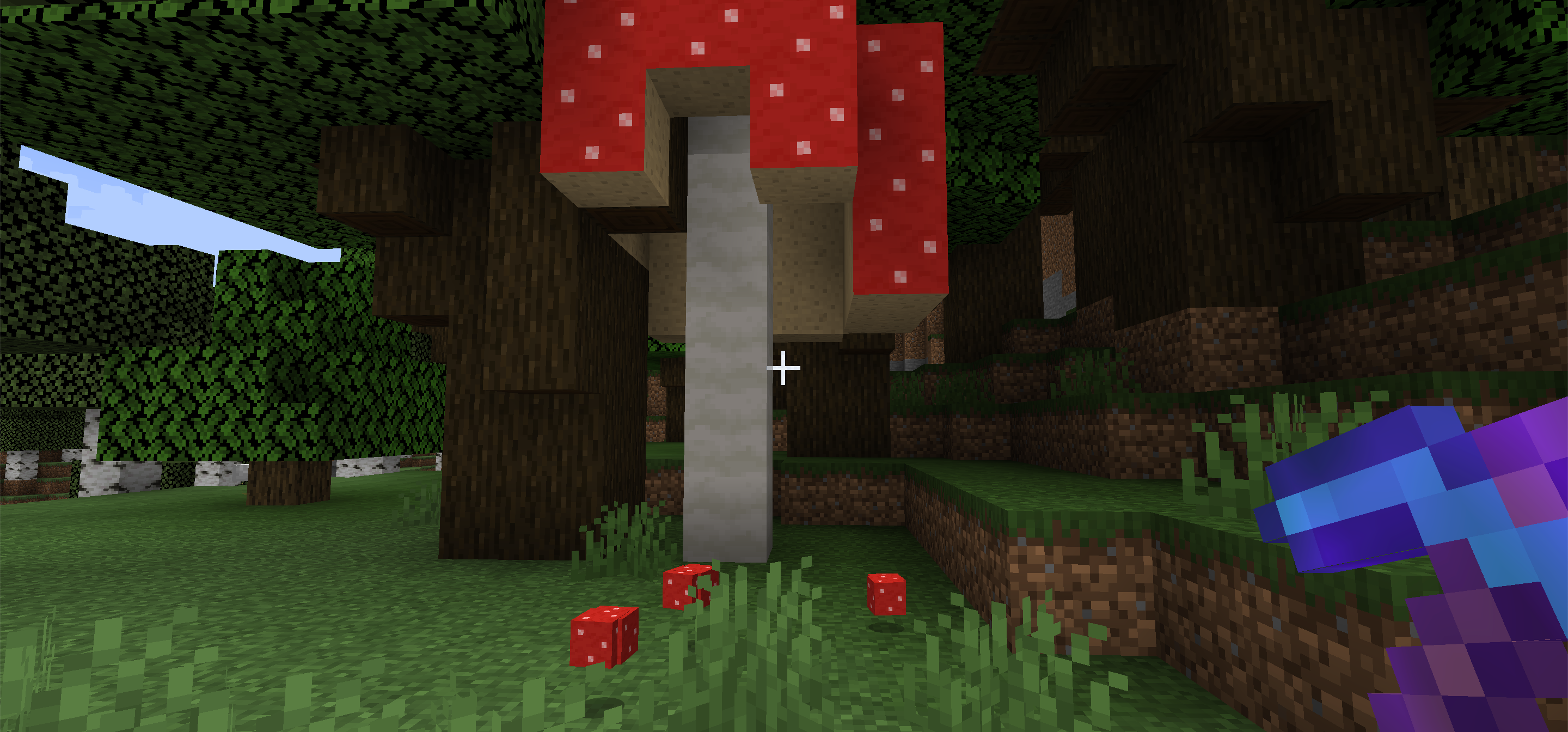 If Minecraft players use a silk touch tool, then they can obtain blocks that otherwise don't drop when mined. The following list shows which blocks can be uniquely taken using silk touch, instead of creating their usual drops, or nothing:
Amethyst cluster
Bee nest
Beehive
Bookshelf
Budding amethyst
Campfire
Chiseled bookshelf
Clay
Coal ore
Coral blocks
Decorated pot
Deepslate
Dirt block
Emerald ore blocks
Ender chest
Gilded blackstone
Glass panes
Glass blocks
Glowstone
Gold ore
Grass blocks
Dirt path
Gravel
Ice
Infested block
Iron ore
Lapis lazuli ore
Leaves
Melon
Melon stem
Mushroom blocks
Mycelium
Neter gold ore
Nether quartz ore
Nylium
Packed Ice
Podzol
Pumpkin stem
Redstone ore
Sculk, sculk catalyst, sculk sensor, sculk shrieker, sculk vein
Sea lantern
Snow
Snow block
Soul campfire
Stone
Turtle egg
Twisting vines
Weeping vines
Wooden slabs
Note, that some of these items need to be mined with a specific tool to drop their original blocks, and some of the items dropped from mining are slightly different in Java Edition and Bedrock Edition.
Final Thoughts
The Silk Touch enchantment is one of the only ways to get a bunch of different blocks in a survival Minecraft world. This must-have enchantment can be super useful if you are trying to a specific block that otherwise would break down.
Now you know how to obtain silk touch enchantment buff for your tools, you'll be able to enjoy decorating your Minecraft world with rare new blocks!
FAQs on Silk Touch Enchantment
Is Silk Touch Only a Level 30 Enchantment?
Silk touch isn't a level 30 only enchantment, however, having 30 levels of experience will increase your chances of getting this enchantment. It also means you'll have plenty of experience to activate it.
What Level Do you Need to get Silk Touch?
While you can get the silk touch enchantment from level 17 onward, it's more common from level 20 and up. The highest chance of getting the silk touch enchantment is level 30.
How Many Bookshelves Do I Need for Silk Touch?
You need 9 bookshelves around your enchantment table to unlock silk touch in Minecraft. This will need a total of 27 books and 54 wooden planks as crafting materials.